Q&A Grabber: The Premier People Also Asked Scraper
Finally… The Answer to Your Content Problems
Running out of ideas or content for your current websites or GMB listings? Now you can get unlimited new content with a few clicks of the mouse. Curate relevant popular questions and answers that Google serves front and center in their result pages so you can build your authority, rank higher, and make more sales.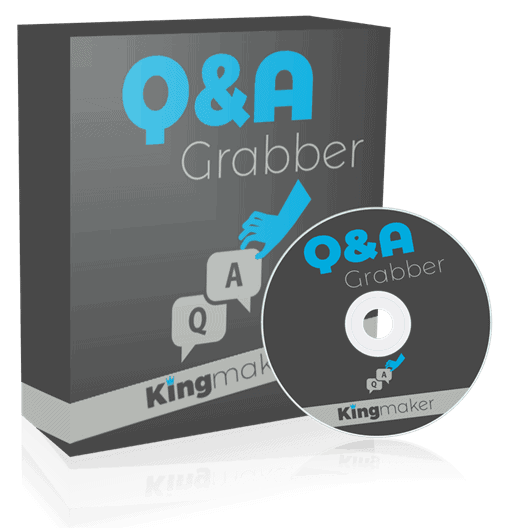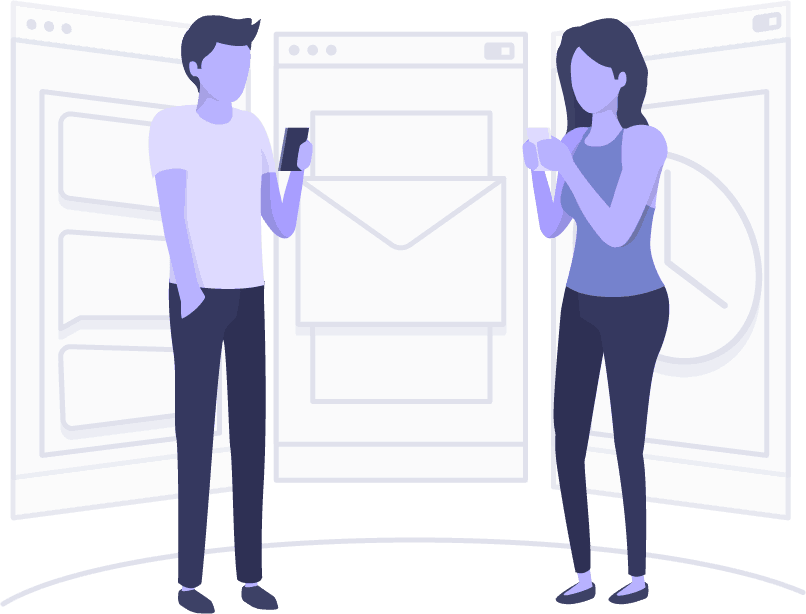 Watch Q&A Grabber in Action
Find the Questions People Are Asking & The Answers Google Responds With
With Q&A Grabber, you can easily create FAQ sections for your blogs and GMB listings, Ecommerce product pages and sites, affiliate sites, social media accounts, and more.
Quickly build authority by finding and targeting real, relevant questions that your potential customers and clients are searching for, and effortlessly target longtail keywords to drive more targeted traffic with less competition.
Utilize the content to build relevant backlinks and further boost your sites' authority and rankings.
Additionally, if you choose to integrate spinning with Spin Rewriter, you can ensure each question and/or answer is unique with no extra effort on your part.
Use the single-search mode to enter questions one at a time, or utilize the bulk search feature to collect lists of Q&A's from hundreds of seed questions in one go.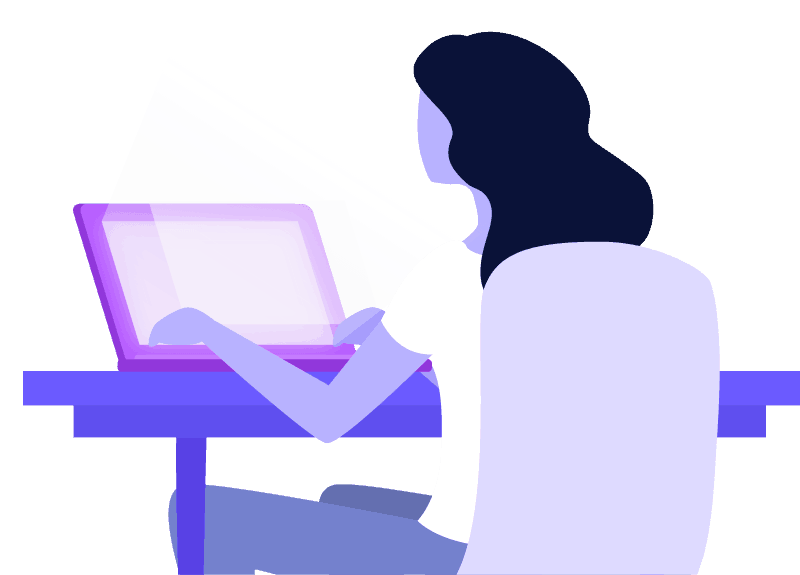 Discover New Questions & Answers
Ever notice how Google provides "People Also Asked" results when you type a question into the search box? Their goal is to provide relevant questions and answers at a glance, which you can now harvest for your own benefit.

Bulk Scrape Hundreds of Q&A's
With the bulk input mode, you can add a list of questions (grabbed from QuestionForge or any source), click go, and sit back while Q&A Grabber goes out and harvests relevant questions and answers from your seed list.

Export Q&A's to a Variety of Formats
Whether you want your questions & answers exported as text documents, CSV files, HTML documents, or FAQPage JSON-LD, Q&A Grabber has you covered. Grab these results (with dual-export) & use wherever needed, however you see fit!

Auto-Spin Questions & Answers
If you have a Spin Rewriter account, you can have Q&A Grabber automatically spin questions, answers, or both and save the results in spintax format, or unspin the results for a unique copy ready to use.

New Updates Released Automatically
In addition to providing updates to ensure Q&A Grabber continues to work with Google's changes, we're dedicated to adding more functions for users to make the tool even more powerful.

Support You can Count On
We pride ourselves on fast and friendly support. Our goal is to respond to all support tickets within 24 hours and get any issues you may encounter resolved as quickly as possible.
Everything You Need For New Content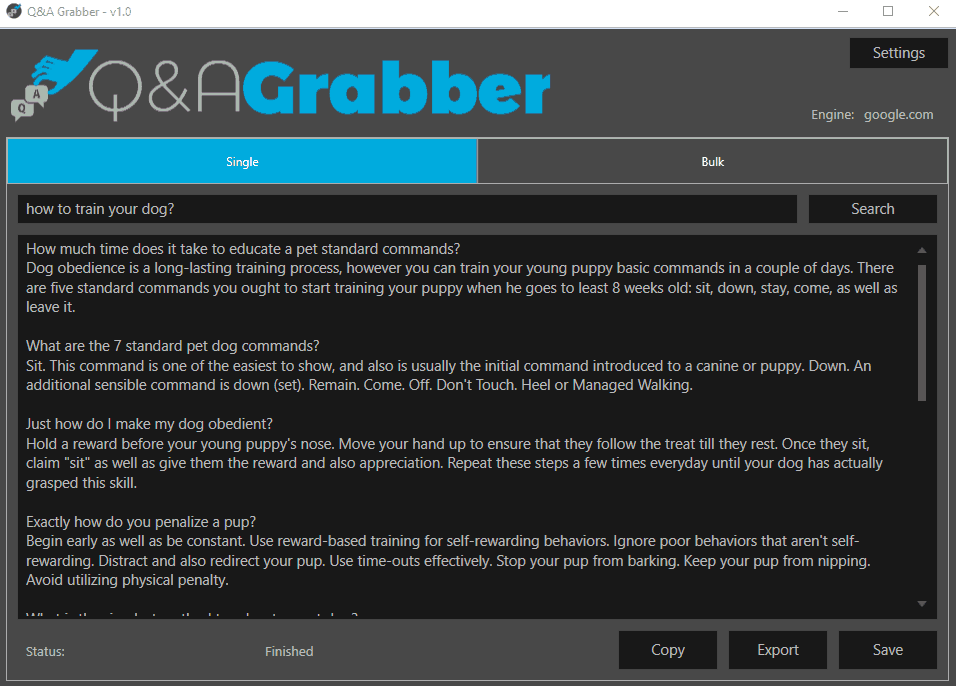 Create Frequently Asked Question Sections
Find the most important questions and answers relevant to your products & services, directly from Google with the leading desktop-based People Also Asked scraper. Leverage that information to build your own helpful FAQs that address your visitors' questions & concerns so you can make more sales.
Create Unique Content for Sites & Backlinks
Rewrite or spin your Q&A results to create unique content to use on your website or uses the content to add relevant text around backlinks you build to your sites. 
Create Social Media Content
Never struggle to come up with new ideas for social media posts. Find relevant questions and answers and manually post snippets to your social profiles, or automate posting with your preferred social media mangement software.
1000s of Questions & Answers with a Few Clicks
With the bulk scrape feature, you can plug in a list of seed keywords and questions, set the number of results you want per seed, and sit back while Q&A Grabber works through result pages looking for high-quality, relevant content.
Uncover New Potential Sub-Niches & Keywords
When looking through all of the fresh content Q&A Grabber has returned, you may find a number of topics that you hadn't even considered, which you can use for more Q&A Scrapes and content.
Use Results for Videos
Use your favorite video editor to quickly create slide-based videos that contain the questions and answers uncovered with Q&A Grabber, or if you prefer to be in front of a camera, utilize the content to talk directly to your audience and answer pressing questions.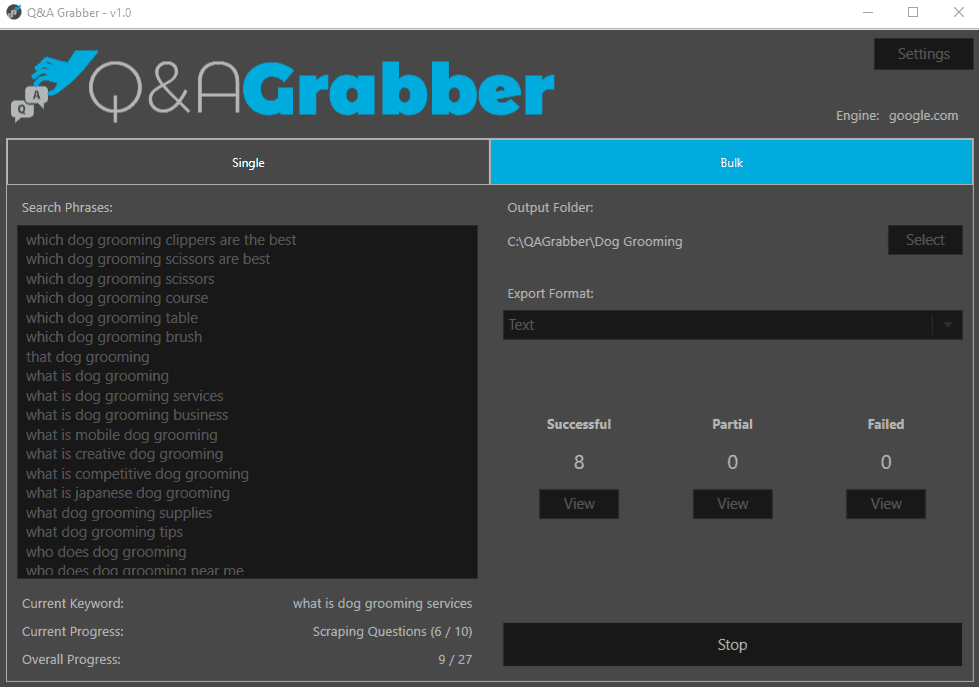 Easy & Affordable Pricing Options
If you're on a tight budget or only need Q&A Grabber for a short period of time, you can grab the monthly plan and cancel at any time with no commitments. If you'd like to utilize the tool over time and save money in the long run, we've made annual and lifetime options available.
Please Note: This Software is Windows Only – Supports Windows 7, 8, 10, and Windows Servers 2012 and newer.
Monthly
$37 One-Time Setup
$17 per month after
Cancel Anytime
Run on 2 Machines
24-Hour Support Response
Yearly
No Setup Fee
$97 per year
Cancel Anytime
Run on 2 Machines
24-Hour Support Response
Lifetime
No Setup Fees
Lifetime Updates
No Monthly Fees
Run on 2 Machines
24-Hour Support Response
Frequently Asked Questions
Please take a moment to review the frequently asked questions outlined below. If you don't see your question about the Q&A Grabber (People Also Asked Scraper) covered, don't hesitate to contact us and we'll be happy to assist you.
Why are there recurring payments for Q&A Grabber?
Due to the frequency Google makes changes to their results pages, a lot of upkeep is necessary to keep the software functioning properly & to continue adding new features. If you don't like recurring payments, the lifetime deal is a great alternative.
How Long Does it Take to Receive my License?
Licenses are automatically generated and sent to your purchase email once you've completed your transaction. If you haven't received your license and download information after 15 minutes, please check your spambox. If it's not there, please open a support ticket and we'll get back to you ASAP to ensure you're taken care of. Please allow up to 24 hours to get back to you, though we strive to respond much quicker. We work limited hours on weekends, but we'll work to resolve issues as quickly as possible.
What Operating Systems Will Q&A Grabber Run On?
Q&A Grabber works on all PCs running Windows 7, 8, 8.1 or 10–the .NET 4.5.2 framework is required for proper operation. The software does not run directly on a Mac. However, you should be able to use VMware Fusion or Parallels to run it. If you purchase and can't get the software to work, we will be happy to work with you to get your issues sorted.
How many computers can I install Q&A Grabber on?
Each purchase of Q&A Grabber allows you to install it on 2 machines, which is great if you'd like to run a copy on a desktop machine, VPS, or laptop. If you need more than 2 installations, please contact us for special bulk rates and we'll ensure you get a solid discount. You can transfer your license to other machines (in case you're outsourcing the work, get a new machine, etc.) once per month by contacting us.
What spinning services are integrated?
Currently, Q&A Grabber integrates with the popular Spin Rewriter service. We will be happy to add other spinning services based on demand–please let us know what service you'd like to see and we'll look into adding it if we're able to get developer access to the desired service(s).
What is your refund policy?
We offer an iron-clad 30-day no-questions-asked guarantee. If you're unsatisifed with your purchase, simply let us know within the 30 day period and we'll be happy to refund every penny. Refunds do not apply to rebills, so please be sure to cancel your subscription before the next monthly or annual charge if you wish to end your subscription.
Note: Q&A Grabber is 100% clean. There are no viruses or malicious code that isn't supposed to be there. If your antivirus blocks Q&A Grabber, you may need to contact your Antivirus provider for assistance on how to whitelist Q&A Grabber since their software is detecting a false-positive.
Many security tools block software that is "unknown." Since Q&A Grabber is new on the market, it is possible they will incorrectly block Q&A Grabber from Installing/Running/Updating. Q&A Grabber also has a built-in updater and encryption to help try to prevent unauthorized sharing of the software, both of which could trigger your antivirus.
Your protection software will usually come with info on how to allow software such as Q&A Grabber to install and run properly. If you have issues, please check the Q&A Grabber user's guide for more help & information.
You'll Love This People Also Asked Scraper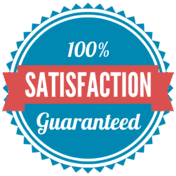 If you grab Q&A Grabber today, try it & decide it's not for you, let me know. Maybe you'd rather  try coming up with questions & answers on your own, or maybe you'd rather try wasting time collecting this information by hand… whatever the case may be, simply let me know within 30 days & I'll refund every penny, no questions asked. If you can't benefit from this powerful software, I don't want to keep your money – no hard feelings.